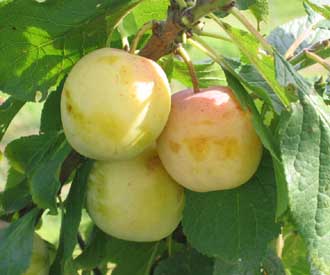 Early Transparent Gage Plum
Prunus domestica
---
Early Transparent Gage Plum Trees for sale - order online
---
History and description of Early Transparent Gage
Early Transparent Gage was raised by Thomas Rivers, Sawbridgeworth, Hertfordshire in 1866 from an open pollinated Transparent Gage. Awarded a First Class Certificate by the RHS in 1898 and adopted as a commercial variety in the UK.
Medium sized, round-oblong fruit. Primrose yellow bloomy skin with red dots.Yellow juicy flesh. Stone free. Very sweet with an excellent gage flavour. One of the best dessert gages and also useful for jam making.
Moderately vigorous upright tree. Good reliable cropper but fruit can be small if not thinned when heavy crops are produced.
---
Main characteristics of Early Transparent Gage