Transparent Gage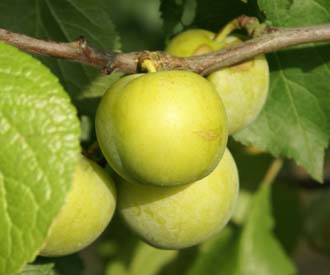 An old French yellow gage considered as one of the finest flavoured gages
Origin: France, 1836
Pollination: Transparent Gage is self-sterile and would require a pollinator to produce a crop.  Pollination partners
History and description of Transparent Gage
Raised from an open pollinated Greengage sometime before 1836 by Lafay, a nurseryman at Bellevue, Paris. Brought to England by Thomas Rivers c 1845 from which he raised the Early Transparent Gage by which it has now been largely replaced. Received RHS Award of Merit in 1964.
Medium sized, round-oblong fruit. Yellow skin with red spots and a delicate pale blue bloom. Transparent yellow, soft, very juicy flesh. When fully ripe it is possible to see the stone through the transparent flesh when the fruit is held against light. Free stone. Delicious, sweet flavour and a very pleasant aroma. An excellent dessert plum.
Moderately vigorous, round-headed tree. Moderate cropping.
Characteristics of Transparent Gage plum and gage trees