Bramley's Seedling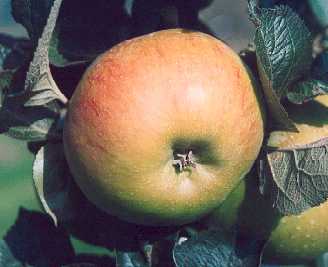 The most popular classic English cooking apple.
Origin: Nottinghamshire UK, 1809
Pollination: Bramley's Seedling is a self-sterile triploid and would require a pollinator to produce a crop.  Pollination partners
Have a look at these similar varieties
History and description of Bramley's Seedling
The original Bramley's Seedling tree was raised by Betsy Brailsford in her cottage garden at Southwell, Nottinghamshire, UK 1809-1813. The tree came to the notice of the nurseryman Henry Merryweather c 1857, who named the variety Bramley's Seedling after Mr Bramley who owned the cottage garden at the time, and introduced it in 1865. It received a First Class Certificate from the RHS in 1883 and was soon adopted by commercial growers. It has since become by far the best known and widely grown culinary apple in the UK.
Irregular, large, flat-round fruit. Green to greenish yellow skin with some brownish orange flush and red stripes. Commercially grown fruit is usually plain green because it is picked before the colour develops. White, green tinged, juicy flesh. Cooks to a pale cream puree. Its strong acidity and flavour have made Bramley's Seedling by far the most popular English cooking apple. Very good keeping quality retaining much of its acidity and flavour until the spring. Bramley's Seedling is widely used for cider making and also produces excellent sharp tasting juice.
Very vigorous triploid tree. Characteristic large leathery leaves and thick shoots. Heavy cropping but with some biennial tendency. Partial tip bearer. Prone to bitter pit. Attractive bright pink blossom.
Characteristics of Bramley's Seedling apple trees
Use
Culinary
Colour
Green
Flavour
Acid
Fruit size
Large
Picking time
Early Oct
Season of use
Nov-Mar
Tree vigour
Vigorous
Tree habit
Upright-spreading
Fruit-bearing
Partial tip-bearer
Cropping
Heavy
Disease resistance
Scab - Slightly susceptible
Mildew - Resistant
Canker - Resistant

Suitable for
Late Frost
Northern Britain

Special features
Attractive Blossom
Good for Cider
Good for Juice

Pollination date
12
Pollination group
D
Self-fertility
Self-sterile triploid
Pollinators
Pollination partners
Progeny
Byfleet Seedling
Cobra

Sports
Crimson Bramley
Bramley 20