Keswick Codlin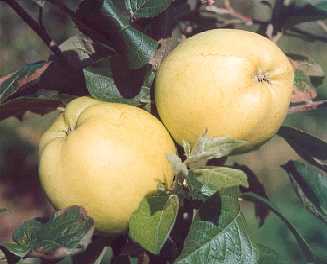 A very old traditional early season cooking apple producing a decorative tree with attractive blossom.
Origin: Lancashire UK, 1793
Pollination: Keswick Codlin is partially self-fertile and would produce some crop without a pollinator but would benefit considerably from a pollinator.  Pollination partners
History and description of Keswick Codlin
A very old Northern English variety which according to Robert Hogg in his The Fruit Manual was found "growing among a quantity of rubbish behind a wall at Gleaston Castle near Ulverstone" in Lancashire. It was introduced c 1790 by a Keswick nurseryman called John Sander, who named it Keswick Codlin. It was one of the most popular early cooking apples in Victorian England and was grown commercially in Kent and around London up until the 1930's.
Typical long and angular codlin-type fruit. Medium sized. Conical oblong, ribbed shape. Pale green skin ripening to pale yellow. Occasionally a slight dark yellow or orange flush. Often has a distinctive raised russet hair lines running from the stalk to the apex. Soft, juicy, cream coloured flesh. Pleasant refreshing, sharp taste. Cooks to a cream coloured juicy froth needing little added sugar. Good for jelly making.
Moderately vigorous tree. Partially self-fertile. Prolific cropper but with some biennial tendency. Very attractive blossom. Hardy and suitable for growing in Northern Britain.
Characteristics of Keswick Codlin apple trees
| | |
| --- | --- |
| Use | Culinary |
| Colour | Yellow |
| Flavour | Subacid |
| Fruit size | Medium |
| Picking time | Mid/Late Aug |
| Season of use | Aug-Sep |
| Tree vigour | Moderate |
| Tree habit | Upright-spreading |
| Fruit-bearing | Spur-bearer |
| Cropping | Heavy |
| Suitable for | Northern Britain |
| Special features | Attractive Blossom |
| Pollination date | 5 |
| Pollination group | B |
| Self-fertility | Partially self-fertile |
| Pollinators | Pollination partners |
| Progeny | Early Victoria |