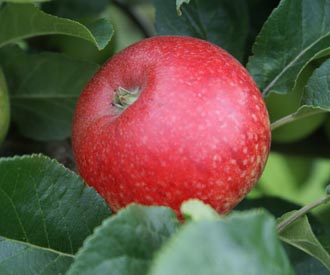 Beauty of Bath Apple
Malus domestica
---
Beauty of Bath Apple Trees for sale - order online
We supply trees and plants only during the winter planting season from late November to mid March. Orders placed now will not be be delivered until the winter planting season. You will not be required to pay until October but by ordering now you can ensure that the items are reserved for you and supplied as early as possible when we resume delveries in late November.
---
History and description of Beauty of Bath
Beauty of Bath apple originated as a local variety grown at Bailbrook, near Bath, UK in the 19th Century. It was inroduced by the nurseryman George Cooling of Bath c 1864. Received a First Class Certificate from the RHS in 1887. Became established as one of the most important very early dessert apples grown in the UK. However, it suffered from the disadvantage of a tendency to drop its fruit. Straw had to be spread under the trees to prevent damage to falling fruit. It is now no longer grown commercially but remains a popular garden variety.

Small to medium sized, flat round fruit. Attractive looking. Red flush and stripes over pale greenish yellow skin. Creamy white, soft, juicy flesh, sometimes stained pink under the skin. Distinctive, fairly sharp flavour. Does not store and should be eaten from the tree.

Vigorous tree. Heavy cropper but with a tendency to drop its fruit before it is fully ripe. Very resistant to scab.
---
Main characteristics of Beauty of Bath