Shropshire Prune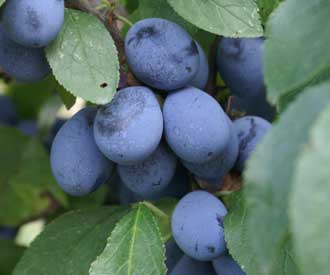 A classic damson considered to be one of the best flavoured.
Origin: ,
Pollination: Shropshire Prune is self-fertile and a pollinator is not necessary for producing a crop.  Pollination partners
History and description of Shropshire Prune
Shropshire Prune damson is an old variety dating back to at least the 17th Century presumably from Shropshire, UK. Has been grown commercially in the UK for processing.
Small, oval fruit. Blue-black with a dense bloom. Strong, rich, astringent damson flavour. Considered to be the best flavoured damson.
Compact tree with dense twiggy branches. Fair and regular cropper but never producing very heavy crops like the Farleigh damson.
Characteristics of Shropshire Prune damson, cherry plum and bullace trees
Use
Culinary
Colour
Blue Black
Flavour
Sharp
Fruit size
Small
Picking time
Season of use
E Sep
Tree vigour
Small
Tree habit
Fruit-bearing
Cropping
Suitable for
Northern Britain
Wet Regions

Pollination date
24
Pollination group
D
Self-fertility
Self-fertile
Pollinators
Pollination partners