Farleigh Damson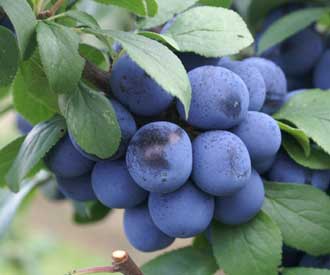 Our local variety. A heavy cropping popular small fruited damson.
Origin: Kent UK, 1820
Pollination: Farleigh Damson is partially self-fertile and would produce some crop without a pollinator but would benefit considerably from a pollinator.  Pollination partners
Have a look at these similar varieties
History and description of Farleigh Damson
Farleigh damson was found as a wild seedling by James Crittenden of Farleigh, Kent, UK and introduced c 1820.
Small, round oval fruit. Blue-black with a light blue bloom. Good strong damson flavour. Prolific regular cropper producing clusters of fruit.
Compact tree with a dense growth of thorny branches. Suitable for incorporating into hedgerows.
Characteristics of Farleigh Damson damson, cherry plum and bullace trees
Use
Culinary
Colour
Blue Black
Flavour
Sharp
Fruit size
Small
Picking time
Season of use
M Sep
Tree vigour
Moderate
Tree habit
Fruit-bearing
Cropping
Heavy
Suitable for
Northern Britain
Wet Regions

Pollination date
23
Pollination group
D
Self-fertility
Partially self-fertile
Pollinators
Pollination partners
Progeny
Langley Bullace