Coe's Golden Drop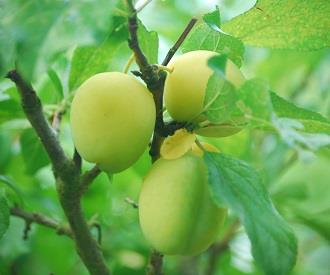 A very attractive yellow plum considered by many as the best flavoured of all plums.
Origin: Suffolk UK, 1780
Pollination: Coe's Golden Drop is self-sterile and would require a pollinator to produce a crop.  Pollination partners
History and description of Coe's Golden Drop
Coe's Golden Drop is the best known of several varieties produced by Jervaise Coe, a gardener at Bury St Edmunds, Suffolk in the late 18th Century. Coe believed the original seedling to have arisen from a cross between a Greengage and a White Magnum Bonum growing nearby. Was grown commercially in the UK.
Large, oval, fruit with a tapered neck to the stalk. Golden yellow skin with reddish brown specks and cinnamon bloom. Tender, juicy golden yellow flesh. Sweet with an excellent apricot flavour. Stone free. Keeps well after picking.
Moderately vigorous spreading tree. It is a light and erratic cropper needing good growing conditions and so only suitable for warm and sheltered locations.
---
Characteristics of Coe's Golden Drop plum and gage trees