Granny Smith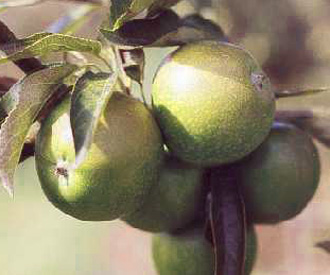 One of the most widely grown commercial apples known for its green colour, sharp flavour and firm texture.
Origin: Australia, 1868
Pollination: Granny Smith is self-fertile and a pollinator is not necessary for producing a crop.  Pollination partners
History and description of Granny Smith
Named after Mrs Anne Smith of Ryde, New South Wales, Australia who found the original seedling. Born in Peamarsh, Sussex, UK in 1800, Mrs Smith emigrated to Australia in 1838. In the 1860's she found the seedling growing in a creek where she had thrown out some apples. The seedling is believed to have arisen from a pip of a French Crab apple. It first fruited in 1868. Mrs Smith found the fruit to be good for cooking. It was also found to be good for eating fresh and to store well. Her family propagated the tree and started to market the fruit. The variety became known Granny Smith and went on to become a major commercial variety. It is now grown extensively in Australia, New Zealand and South Africa as well as other warmer apple growing regions such as Spain, Southern France, and Washington State, U.S.A. A site near Mrs Smith's home was named 'Granny Smith Memorial Park' in 1950 to commemorate the apple.
A medium sized apple. Round-conical shape. Faint trace of ribbing. Some fruits slightly flushed purplish brown. Greenish white flesh, firm and rather coarse textured. Can be crisp and refreshing but with no distinctive flavour. Tough skin. It is used as a dual purpose apple in many countries.
A tree of moderate vigour. Heavy cropper. Fruit ripens poorly in England.
Characteristics of Granny Smith apple trees
| | |
| --- | --- |
| Use | Dessert |
| Colour | Green |
| Flavour | Sharp |
| Fruit size | Medium |
| Picking time | Mid/Late Oct |
| Season of use | Dec-Apr |
| Tree vigour | Moderate |
| Tree habit | Upright-spreading |
| Fruit-bearing | Spur-bearer |
| Cropping | Heavy |
| Disease resistance | Mildew - Very susceptible |
| Pollination date | 10 |
| Pollination group | C |
| Self-fertility | Self-fertile |
| Pollinators | Pollination partners |