Rubinola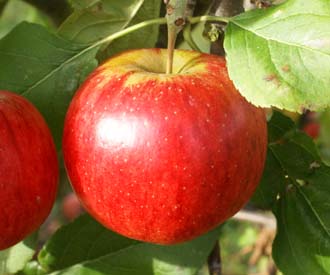 A delicious and attractive modern disease resistant apple with sweet melting flesh.
Origin: Czech Republic, 1997
Pollination: Rubinola is self-sterile and would require a pollinator to produce a crop.  Pollination partners
Have a look at these similar varieties
History and description of Rubinola
Rubinola is a cross between Prima and Rubin bred by the Institute of Experimental Botany in the Czech Republic as part of a programme to develop new disease resistant apple varieties. It was first registered in 1997.
The fruit is medium to large and almost perfectly round in shape. The skin is quite thin and a very attractive red colour over a yellow background. The yellow flesh is firm and crisp but very juicy, almost melting at the same time. It is sweet with fine aromatic flavour. Rubinola is consistently one of the favourite varieties amongst the visitors at the Keepers Nursery annual open days. When cut the flesh does not darken even after long exposure. It is a mid to late season variety best eaten from late September to the end of October but will keep much longer well into the winter if stored.
Rubinola is vigorous producing a large, attractive spreading tree. It is very resistant to
apple scab
and also resistant to
apple powdery mildew
. It is tip bearer requiring mainly formative pruning. It crops well but not excessively and requires no crop thining.
Characteristics of Rubinola apple trees
Use
Dessert
Colour
Red
Flavour
Sweet
Fruit size
Medium
Picking time
Late Sept
Season of use
Sept-Dec
Tree vigour
Vigorous
Tree habit
Upright-spreading
Fruit-bearing
Tip-bearer
Cropping
Good
Disease resistance
Mildew - Resistant
Scab - Very resistant

Suitable for
Northern Britain
Wet Regions

Pollination date
11
Pollination group
C
Self-fertility
Self-sterile
Pollinators
Pollination partners