Langley Bullace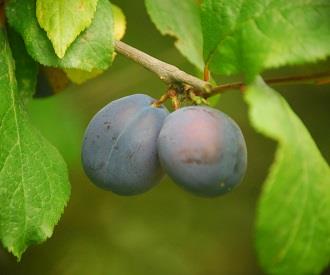 Despite its name this variety is best regarded as a small damson rather than a bullace
Origin: England, 1902
Pollination: Langley Bullace is self-fertile and a pollinator is not necessary for producing a crop.  Pollination partners
History and description of Langley Bullace
Raised by the nurseryman Veitch of Langley, UK and introduced 1902. Received the RHS Award of Merit in 1902 and First Class Certificate in 1904. The name bullace continues to be used for this fruit although it is closer to the damsons in all respects.
Round to oblong fruit. Large for a bullace and more like a small damson. Blue-black bloomy skin. Firm, green flesh. Clinging stone. Sharp damson like flavour. Good for culinary use as a damson.
Vigorous tree. Very unusual growth habit. Branches tend to grow downwards from the trunk and become twisted.
---
Characteristics of Langley Bullace damson, cherry plum and bullace trees
Use
Culinary
Colour
Black
Flavour
Sharp
Fruit size
Large
Picking time
Season of use
L Sep
Tree vigour
Vigorous
Tree habit
Fruit-bearing
Cropping
Heavy
Pollination date
20
Pollination group
C
Self-fertility
Self-fertile
Pollinators
Pollination partners
Parentage
Early Orleans
Farleigh Damson