Gorham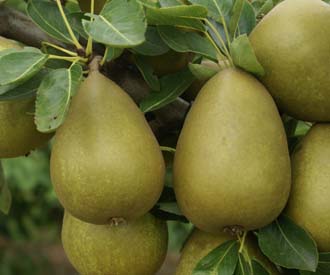 A good dual purpose pear with sweet musky flavour.
Origin: USA, 1910
Pollination: Gorham is partially self-fertile and would produce some crop without a pollinator but would benefit considerably from a pollinator.  Pollination partners
History and description of Gorham
Raised in 1910 by Richard Wellington at the New York State Agricultural Experimental Station, USA from a cross between Williams Bon Chretien and Josephine de Malines.
Small to medium sized fruit. Very variable conical to pyriform shape. Greenish yellow skin with variable amounts of fine brown russetting. Creamy white, juicy, smooth textured flesh. Sweet with a musky flavour. A good dessert variety but also useful for cooking.
Upright tree of moderate vigour. Reliable, moderate to good cropper. Recommended as a good pollinator for Doyenne du Comice.
Characteristics of Gorham pear trees
Use
Dual Cul & Des
Colour
Flavour
Fruit size
Medium
Picking time
Early Sep
Season of use
Sep
Tree vigour
Moderate
Tree habit
Spreading
Fruit-bearing
Spur-bearer
Cropping
Disease resistance
Scab - Very resistant

Suitable for
Northern Britain

Pollination date
23
Pollination group
E
Self-fertility
Partially self-fertile
Pollinators
Pollination partners
Parentage
Josephine de Malines
Williams Bon Chretien