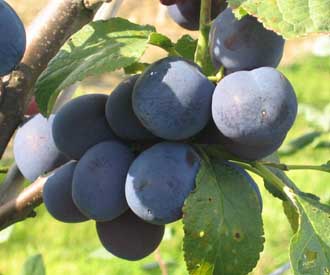 Czar Plum
Prunus domestica
---
Czar Plum Trees for sale - order online
We have now stopped taking orders for the winter 2019/20 planting season. Our 2020/21 list is currently being prepared. It will be available from 1st May 2020 when we will start taking orders for delivery next autumn/winter.
---
History and description of Czar
Czar plum was raised from a cross between Prince Englebert and Rivers Early Prolific by Thomas Rivers, Sawbridgeworth, Hertfordshire, UK in 1871. As the Russian Emperor was on a visit to the UK at the time the variety was named Czar in his honour. It became an established commercial variety in the UK and elsewhere in Europe.
Medium sized, oval-oblong fruit. Blue-black bloomy skin. Tender yellowish green flesh. Pleasant sharp flavour. Usually considered as a cooking plum but sweet enough when ripe to make a good dessert plum. Stone is small and free. Can be tough skinned.
Compact hardy tree suitable for most parts of the UK and areas subject to spring frosts. It is also suitable for locations with heavy and acid soils.It tollerates shade and can be grown on a North facing wall. Heavy reliable cropping. Large attractive blossom. Susceptible to Silver Leaf.
---
Main characteristics of Czar