Opal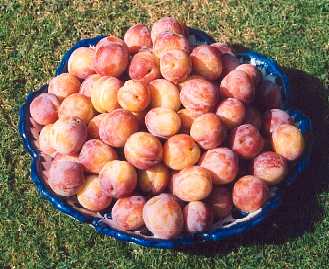 An excellent early dessert plum rather like a small Victoria.
Origin: Sweden, 1925
Pollination: Opal is self-fertile and a pollinator is not necessary for producing a crop.  Pollination partners
---
Have a look at these similar varieties
History and description of Opal
Opal plum was raised at the Horticultural Research Station, Alnarp, Sweden in 1925 from a cross between Oullin's Gage and Early Favourite.
Medium sized, oval-oblong fruit. Reddish purple flush over a yellow bloomy skin. Speckled with small white spots. Firm, pale gold flesh. Free stone. Good sweet flavour.
Moderately vigorous, round-headed tree. Self-fertile and a heavy regular cropper.
---
Characteristics of Opal plum and gage trees
Use
Dessert
Colour
Purple
Flavour
Sweet
Fruit size
Medium
Picking time
Season of use
E Aug
Tree vigour
Moderate
Tree habit
Upright
Fruit-bearing
Cropping
Heavy
Disease resistance
Bacterial Canker - Slightly resistant

Suitable for
Northern Britain

Pollination date
21
Pollination group
C
Self-fertility
Self-fertile
Pollinators
Pollination partners
Parentage
Early Favourite
Oullins Gage