Victoria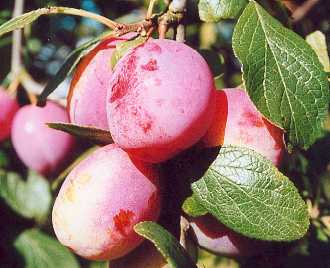 The best known and most popular of English plums.
Origin: Sussex UK, 1840
Pollination: Victoria is self-fertile and a pollinator is not necessary for producing a crop.  Pollination partners
---
Have a look at these similar varieties
History and description of Victoria
The original seedling of Victoria plum was found in a garden at Alderton, Sussex. It was bought by Denyer a nurseryman at Brixton in London who introduced the variety c 1840. Awarded a First Class Certificate by the RHS in 1973. It is the most widely grown commercial variety in the UK.
Medium large, oval fruit. Pinkish red skin when ripe with a pale blue bloom. Yellow, grainy, firm juicy flesh. Quite sweet but with some acidity. A very popular dessert variety . Even better as a culinary plum producing a lovely pink syrup and an almond aroma when cooked.
Moderately vigorous tree producing long spreading branches. Self-fertile. Heavy cropper sometimes producing crops which are too heavy and result in small fruit or broken branches. Susceptible to both Silver Leaf and bacterial canker.
---
Characteristics of Victoria plum and gage trees