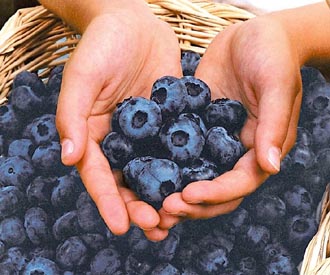 Chandler Blueberry
Vaccinium corymbosum
A mid to late season blueberry producing largest berries of any variety
Pollination:
  Chandler is self-fertile and a pollinator is not necessary for producing a crop.
A guide to choosing Blueberry Bushes
---
Chandler Blueberry Bushes for sale - order online
---
History and description of Chandler
Chandler produces the largest size blueberries of any variety. The berries are the size of cherries - up to 2g in weight and 2mm in diameter. They also have excellent flavour. Chandler also has the advantage of a very long cropping season lasting up to 6 weeks from early August until mid September. The bushes are vigorous and slightly spreading reaching a hight and spread of 5-7ft (1.5- 2m) when mature. All blueberries do best on a moist acid soil. Blueberries are self-fertile, but it is recognised that cross-pollination as a result of planting more than one variety together does improve yield.