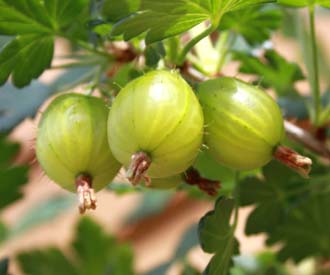 Hinnonmaki Green Gooseberry
Ribes uva-crispa var reclinatum
A mildew resistant green gooseberry good for cooking and eating fresh
Pollination:
  Hinnonmaki Green is self-fertile and a pollinator is not necessary for producing a crop.
A guide to choosing Gooseberry Bushes
---
Hinnonmaki Green Gooseberry Bushes for sale - order online
---
History and description of Hinnonmaki Green
The Hinnonmaki gooseberries have been bred in Finland for hardiness to withstand their harsh winters, and for resistance to mildew the most common disease of gooseberries. Hinnonmaki Green produces heavy regular crops of very large olive green berries. They are well flavoured and sweet. Excellent for cooking but also eating when fully ripe. The bushes have a compact spreading growth habit. They have very good resistance to powdery mildew.