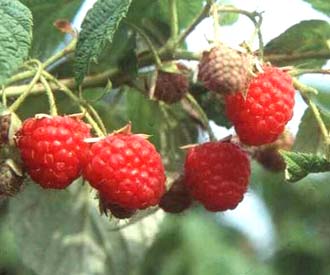 Malling Jewel Raspberry
Rubus idaeus
An old favourite with soft juicy berries and good disease resistance
Pollination:
  Malling Jewel is self-fertile and a pollinator is not necessary for producing a crop.
A guide to choosing Raspberry Canes
---
Malling Jewel Raspberry Canes for sale - order online
---
History and description of Malling Jewel
Malling Jewel is one of the older variety of raspberry. It is an early mid season variety which can be picked through most of July. The fruit is soft and juicy with excellent flavour.