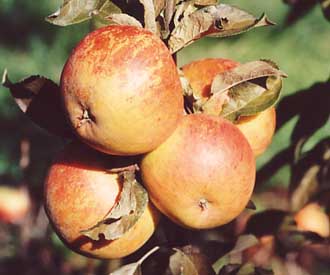 Cox's Orange Pippin Apple
Malus domestica
---
Cox's Orange Pippin Apple Trees for sale - order online
We supply trees and plants only during the winter planting season from late November to mid March. Orders placed now will not be be delivered until the winter planting season. You will not be required to pay until October but by ordering now you can ensure that the items are reserved for you and supplied as early as possible when we resume delveries in late November.
If you like this variety also look at these
---
History and description of Cox's Orange Pippin
Cox's Orange Pippin was raised by a retired brewer called Richard Cox at Colnbrook Lawn, Slough, Buckinghamshire, UK c 1825. Believed to have been a
Ribston Pippin
seedling. Introduced by Smales & Son, Colnbrook c 1850. Was first grown commercially c 1862 by Thomas Rivers in Hertfordshire. More extensive planting around London and in Kent followed until disease problems led to its decline in the early 1900's. Commercial planting was revived after the introduction of lime sulphur sprays in 1920's. It has since become the most widely grown dessert variety in the UK. It is also grown in NewZealand and continental Europe. Received an Award of Merit and a First Class Certificate from the RHS in 1962.
Medium sized, round conical fruit. Greenish yellow skin ripening golden yellow covered with orange-red flush and broken stripes. Some small russet patches. Firm, juicy, cream flesh. Sweet but with plenty of balancing acidity. Intensely aromatic, complex flavour. Regarded as the finest of English dessert apples. Flavour improves with storage but loses its crispness if stored for too long.
Moderately vigorous tree. Rather susceptible disease. Unsuitable for colder and more humid regions, or for organic cultivation. A very difficult variety to grow. Less experienced gardeners would be well advised to substitute Cox with alternative varieties such as
Sunset
or
Ellison's Orange
which are much easier to grow.
---
Main characteristics of Cox's Orange Pippin
Use
Dessert
Colour
Flushed
Flavour
Aromatic
Fruit size 
Medium
Picking time 
Late Sep/Early Oct
Season of use 
Oct-Dec

---

Tree vigour 
Moderate
Tree habit 
Upright-Spreading
Fruit bearing 
Spur-bearer
Cropping
Good
Suitable for
Late Frost

Special features
Good for Cider


---

Pollination date 
11
Pollination group 
C
Self fertility 
Self-sterile
Pollinators
Show suitable pollination partners
Parentage 
Ribston Pippin (?)
Progeny 
Acme (?), Acme, Laxton's Advance, Alkmene, Allington Pippin, Arthur W Barnes, Barnack Orange, Barnack Orange, Bountiful, Captain Kidd, Carswell's Honeydew, Carswell's Orange, Carswell's Orange, Charles Ross, Charles Ross, Nuvar™ Cheerfull Gold™, Clopton Red, Cobra, Downton Pippin, Edith Hopwood, Ellison's Orange, Exquisite, Laxton's Favourite, Fiesta, Laxton's Fortune, Francis, Nuvar® Freckles, Freyberg, Gloucester Cross, Golden Nugget, Hereford Cross, Herefordshire Russet, High View Pippin, Holstein (?), Ingrid Marie, James Grieve (?), Jupiter, Karmijn de Sonnaville, Kent, Kidd's Orange Red, King George V, Langley Pippin, Laxton's Pearmain, Laxton's Triumph, Lynn's Pippin, Merton Beauty, Merton Charm, Meridian, Merton Russet, Merton Worcester, Millicent Barnes, Orangenburg, Pixie (?), Polly Prosser, Prins Bernhard, Prince Charles, Rival, Rosy Blenheim, Rubens, Rubinette (?), Ruby (Thorrington), St Cecilia, St Everard, Sunset, Suntan, Laxton's Superb, Tydeman's Late Orange, William Crump, Winston
Sports 
Flanders Cox, Queen Cox, Self-Fertile Cox